It has been one of those weeks. Yeah you know the ones where it just doesn't end and absolutely nothing is easy.
Whenever I feel frustrated or need some "zen" I usually turn to something I'm knitting to cheer me up. But this week I just couldn't get it right. The stitch counts weren't working out like I wanted, increase rates were too fast or slow. You name it and it just seemed like I was completely off my game. So like any knitter when I can't seem to knit I go check out Ravelry.
While checking out the forums it seemed that I was not alone in my knitting problems this week as I saw several threads of frustration. There were some ravelers lamenting ripping out a project 4 and 5 times. In cases such as these the knitting community is amazing. We share our woes and the encouragement just floods in. Reading these threads seemed to ease my frustration. Sometimes I just need to know that there are others enjoying the beauty of the frog pond with me as I rip out my current project for the third time...or is it the fourth.
Let me introduce you to the friends I brought with me on this beautiful day.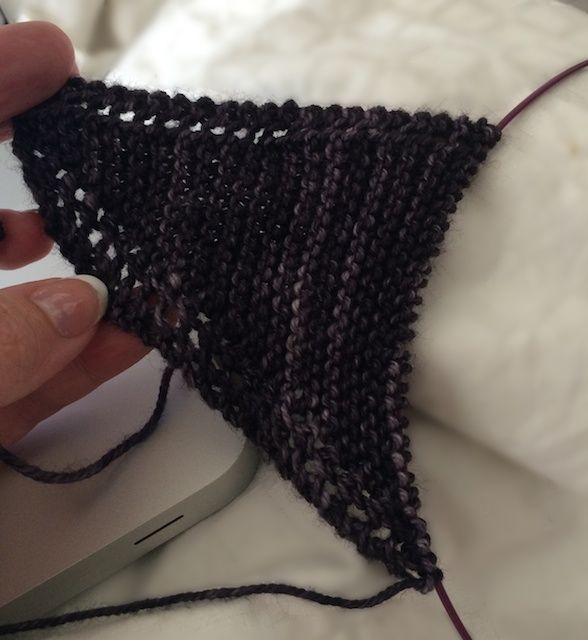 This is a shawl. No it isn't for barbie. This is a shawl I have been designing for a couple weeks now but I have stopped counting the number of times that I have frogged this project. There have been no end to the problems; yarn overs not looking their best, increases too fast, increases too slow, not the right shape, and it just goes on. Right now we are having a time out and focusing on other pursuits. Sometimes that is the best we can do and then pick it up with new eyes and renewed patience. Which brings me to my next pond buddy.
This is my Fine and Dandy sock by The Sweater Co. Yes sock not socks. This is the same sock try 1 and 2. I'm now onto version 3.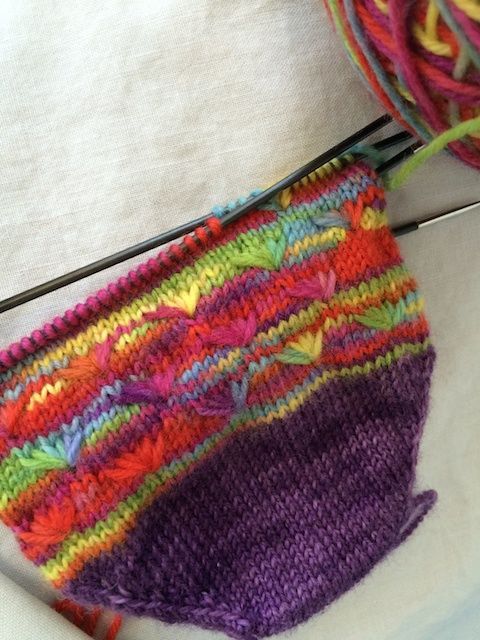 Let me share some of the wisdom I gained.
When something doesn't look right, it probably isn't so investigate immediately.
While knitting my first sock I thought, "hm, this seems a bit looser than the last pair I knit." But like the denier I am I kept going thinking, "nah same needles no problem."
After realizing it was indeed too wide I thought I'll just do some sneaky decreasing. Again I must love to boat because denile is where I was living.
Once I really investigated I discovered I needed to be down no less than 8-10 stitches. At this point I had reached over half of the foot and lost one day of knitting. Again let me stress investigate IMMEDIATELY.
Your first reaction is usually a true read.
When you have discovered something is wrong and you shrug and say, "oh well." Then keep going and have fun. I envy you my laissez faire friend. However, if like me you spend more than a few moments trying to decide, it is probably best to just go ahead and frog it. After all if it bothered you to begin with you won't be happy until it is done "right."
Case in point, on my second try the sock was knit about two to three repeats and I thought the flowers looked a bit compact and more of a diamond shape. They weren't looking like the pretty flowers from the pattern photos. But as stubborn as I am I kept knitting until the point you see in photo 2. I finally recognizing that I wasn't happy with the spacing and would I really make another pair anytime soon to try it the right way?! Now on to version 3.
A crochet hook can be a knitters best friend.
This flower stitch can be a bit fiddily especially when pulling up the third loop. This is when I discovered a small crochet hook could be a knitters life saver, or at least save my project from flying across the room. When not doing the flower row the hook fits nicely in my needle keeper so no hunting it down when I needed it.
In the past I have used crochet hooks for picking up lost stitches, casting on, helping with difficult k2togs, and a plethora or other tiny jobs while I knit. The moral of the story? Get yourself a small crochet hook or a few for different weight yarns and you will be surprised at how useful they can be.
I am glad you could join me today by the pond even if you were here only for the moral support; I needed it. The view has been lovely and I think the sun may be on it's way. So I perhaps it is time for some Fine and Dandy knitting. Again.
Cheers and happy knitting!
The Knitastic Ninja